Greetings! My name is Ian Marsden and I am a professional independent freelance illustrator, designer, animator, and cartoonist with over 20 years of experience. I have worked in various styles and specialize in creating vector digital art, advertising illustrations, graphics for businesses and educational purposes, character design, logo design, mascot design, as well as caricatures and cartoons.
To give you an idea of my capabilities, I have enclosed a poster showcasing a small selection of my work. You can also find more samples of my art and my latest projects on my website at https://marsdenillustration.com.
My portfolio is divided into several categories, including advertising and marketing, editorial, character design, mascot design, and more. Whatever your needs may be, I am confident that I can provide you with the professional and high-quality illustrations and designs that you require.
If you have any questions or would like to discuss a potential project, please don't hesitate to get in touch with me. I look forward to hearing from you soon!

#illustrator #designer #cartoonist #freelance #vectorart #advertisingillustration #businessgraphics #educationalgraphics #characterdesign #logodesign #mascotdesign #caricature #cartoons #portfolio #artwork #independentartist #digitalart #artistsoninstagram #marsdenillustration
My illustration portfolio is divided into several categories:
GOOGLE DOODLES | ADVERTISING ILLUSTRATION | EDITORIAL ILLUSTRATION | RITZENHOFF DESIGN COLLECTION | BUSINESS ILLUSTRATION | LOGO AND CHARACTER DESIGN | CHILDREN'S BOOK ILLUSTRATION | CARTOONS and COMICS
I also specialize in producing and illustrating Whiteboard Scribing Explainer Videos. Here is a YouTube channel with some samples.
Please call me at +33 6 42 49 82 11 or e-mail me for a free estimate and to discuss your project.
This is where you can find my LinkedIn Profile: fr.linkedin.com/in/idmarsden/
I look forward to hearing from you,
Ian David Marsden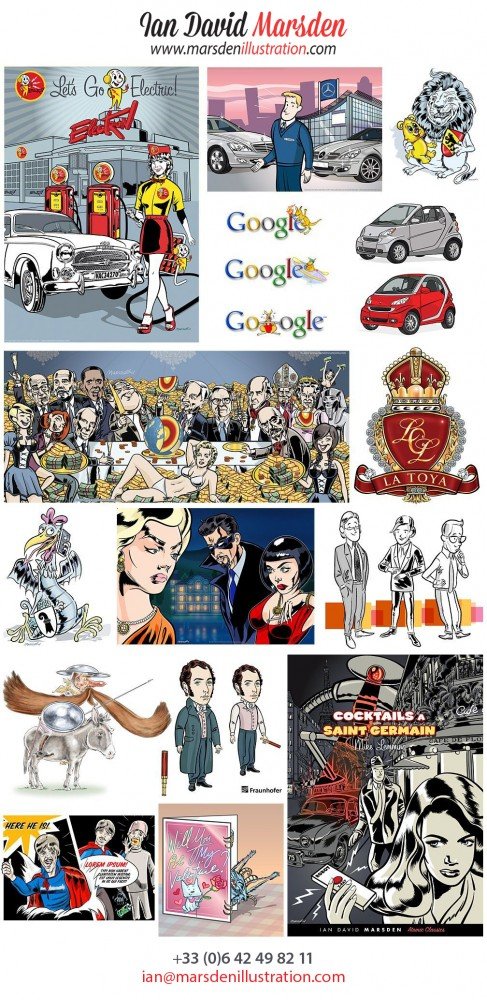 Read more →