LCM
Welcome to my portfolio, showcasing a curated selection of logo designs, character illustrations, mascot concepts, and crests. This gallery is a testament to a tailored and meticulous design process honed over years of experience.
Noteworthy projects showcased here are the Google Doodles crafted for the Sydney Summer Olympics in 2003, the official mascot for the FIS Alpine Ski World Championship in St. Moritz 2003, and a precise vector art representation of Joseph von Fraunhofer for the esteemed Fraunhofer Gesellschaft. Additionally, you'll find the persona of "Oscar" a friendly character designed for seele, a vibrant cast of characters birthed for the Swiss Expo.02, as well as personalized logos and crests commissioned by entertainer La Toya Jackson.
Each project, regardless of scale or client, is undertaken with a consistent dedication to quality and authenticity. The aim is always to encapsulate the essence of the brand or the individual's vision within the design. Please take your time exploring this collection, and don't hesitate to reach out for any inquiries or to discuss potential collaborations.
Explore the gallery below by clicking on any image to view in full detail and begin the slideshow.

---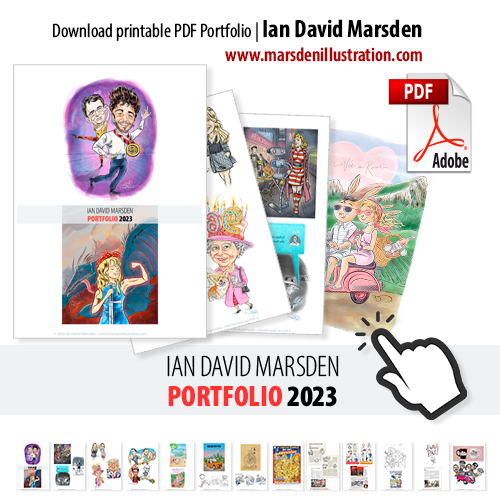 Sketchbook | Advertising and Business | Videos and Animation | Editorial Illustration | Logo and Character Design | Cartoons and Comics | Packaging Design | Google Doodles | Children's Book Illustration | Ritzenhoff | Wacom Featured Artist | Latoya Jackson
CV Ian Marsden English | CV Ian Marsden Français | CV Ian Marsden Deutsch
For a partial client list and testimonials please visit my biography page.
© Copyright 2023 the individual clients / artist: Ian David Marsden

(Displayed on my personal homepage for self-promotional
purposes under rights granted by my terms and conditions.)