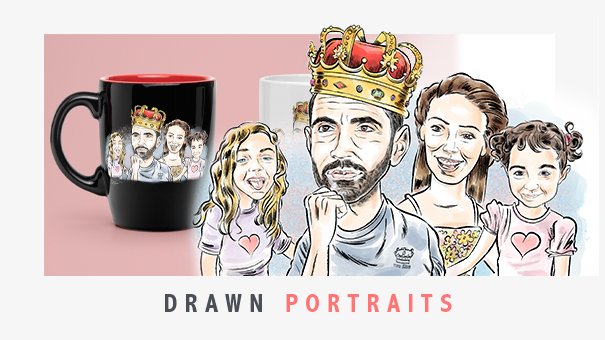 Welcome,
I'm Ian David Marsden, an illustrator and cartoonist who's passionate about immortalizing life's moments in a way that speaks beyond just the digital world. Let me take you on a journey into the realm of personalised hand-drawn cartoon portraits—a place where memories are carefully etched with unparalleled care and artistry.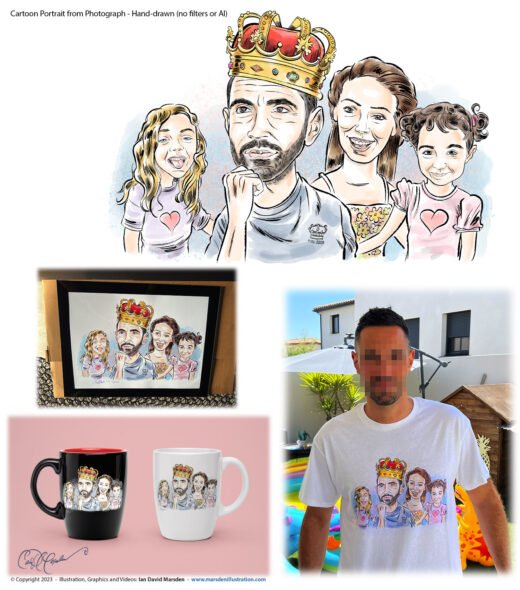 Crafting Your Unique Tale
What sets these portraits apart is the level of customization they offer. It's about capturing the essence of individuals, the soul of a band, or the heart of a family. For instance, a blues band desired to have each band member's distinctive head portrayed with their instruments, all of them cruising in a classic VW van. Families often want their pets to be part of the picture, their house in the background, enterprises might want their company logo lovingly hand-drawn on the holiday card featuring their team portrait. When I say customization, I mean anything is possible—it's your story, after all.
Stories Crafted in Pencil, Ink and Watercolor
A world-renowned wrestler, a repeat customer, wanted to capture his unmistakable glasses and look. In one of his portraits, he even wished to hoist the entire world above his head like Hercules. Another client wanted his pets, a car and a dog, as characters in a Western entering a saloon. This is the level of personalisation and creativity that these hand-drawn portraits can bring to life. Personalization is at the heart of these portraits. It's about capturing the spirit of a family with their pets or spotlighting a significant achievement—a golf trophy, a Christmas tree, graduation, engagement, or even a new position at a company. These are the moments that matter, and these are the stories that deserve to be preserved in unique gifts.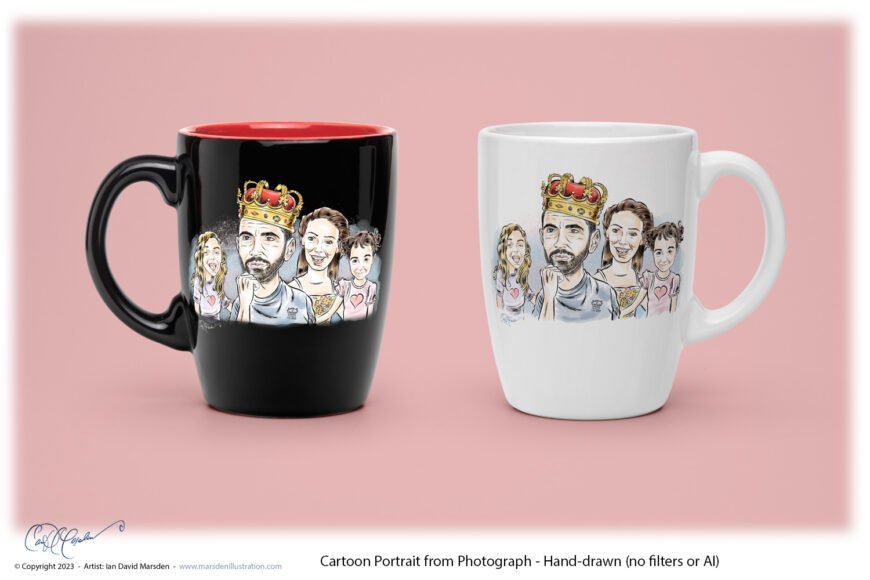 The Experience of Handcrafted Artistry
Let's talk about the process. These portraits are NOT created through automated filters or AI prompts and algorithms; they're brought to life by hand, by an artist who has spent over 20 years perfecting his craft. Each stroke, each shade, is imbued with the experience of years spent as a magazine cartoonist and illustrator across the globe.
Two Paths, One Destination: Your Special Portrait
I offer two paths for your personalized portrait. The first is a high-resolution digital interpretation, opening the door to a world of possibilities—from prints to t-shirts, cups, magnets, pillow cases and beyond. The second is the "platinum tier"—a hand-drawn pen and ink with watercolor original on high quality illustration paper. This isn't just a portrait; it's a piece of art.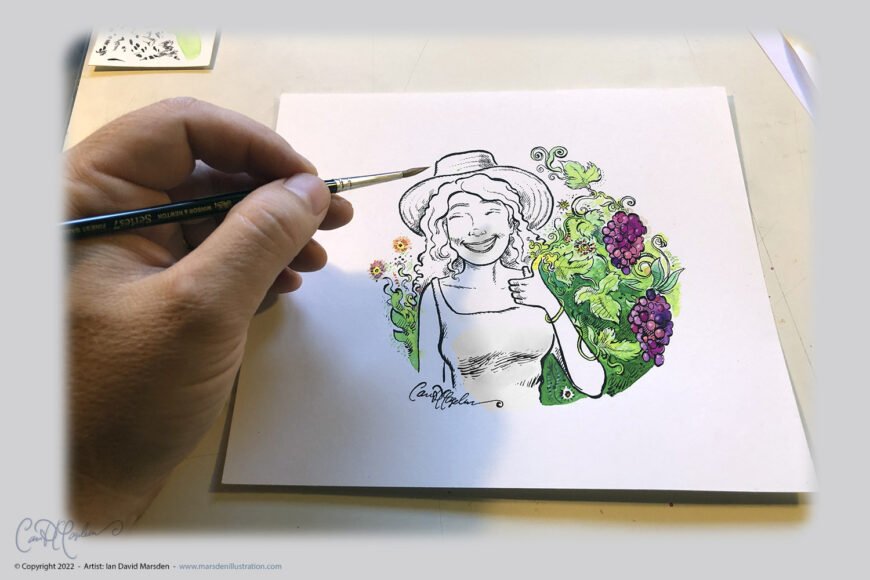 From Idea to Artwork: Your Role in the Journey
The process begins with a simple inquiry. We'll sit down (virtually, of course) and chat about your vision. I'll provide a cost estimate tailored to your unique portrait. Think of it as a partnership—a collaboration where your thoughts and ideas shape the direction of the artwork.
Refinement: Breathing Life into Your Vision
Once the vision is in place, the sketching phase begins. I'm a stickler for details, so we go through two rounds of revisions if needed to ensure your portrait captures your imagination perfectly. This is about making your vision tangible, step by step.
Transparent and Personal
Let's talk about the financial aspect. It all starts with a 50% up front deposit, a symbol of your commitment to the journey. This deposit becomes non-refundable when the pencil sketch has been created. The second half of my fee comes only after you're satisfied with the completed artwork. Naturally a hand-signed, dated, and personalized dedication is included if desired.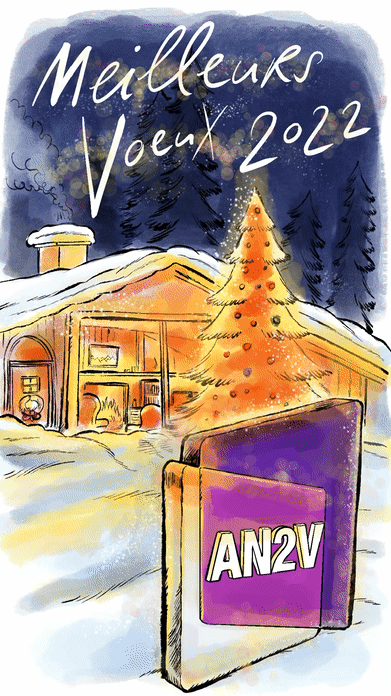 Animated greeting cards? Yes, I do those too
Beyond Paper: Your Portrait, Your Way
The journey doesn't end when the portrait is finished. With the high-resolution digital file, you can work with your chosen partners to translate your artwork into an array of vibrant products. It's about sharing your story with the world in a tangible form.
Owning a Piece of Artistic Legacy
Owning an original artwork isn't just about possessing an image; it's about connecting with a legacy. My journey includes contributions to publications like The New Yorker, Mad Magazine and Nebelspalter. Every portrait I create extends this legacy—a testament to the lasting impact of artistry.
A Myriad of Possibilities: Your Unique Portrait
The stories behind these portraits are as diverse as the people who commission them. Some clients, like the world-renowned wrestler, come back for more—distinctive glasses and all. A blues band wanted each member, instruments in hand, cruising in a classic VW van. Families incorporate their beloved pets or their homes into the scene. Sometimes, a company logo takes a place of honor, hand-drawn with care. The possibilities truly are limitless.
The basic version? A digital high-resolution portrait of one person or a whole team—whatever suits your narrative. And if you'd like, I can even arrange for t-shirt printing and high-quality prints at an extra cost.
Creating Emotion, Building Memories
Ordering a personalized portrait isn't just about receiving or giving an image; it's about evoking deep emotions. It's about giving a thoughtful, special gift that shows you care. These portraits encapsulate moments, achievements, and connections that are close to your heart. Each time the recipient looks at their portrait, they are reminded of these feelings and memories, and that's something that's truly priceless.
So, if you're ready to transform your memories into tangible art, let's take this journey together. No filters, no algorithms—just authentic, hand-drawn artistry that resonates with your story. Let's capture the moments that matter, one stroke at a time. I look forward to your e-mail to discuss your personal custom artwork.
Personalized hand-drawn portraits, Ian David Marsden artwork, Customized cartoon creations, Tailored portrait commissions, Authentic handcrafted portraits, Emotive bespoke artworks, Creative portrait customization, cartoon portrait, caricature portrait, bespoke portrait art, Unique personalized drawings, Capturing life's moments on paper, not AI, not artificial intelligence,
#PersonalizedPortraits
#ArtByIanDavidMarsden
#BespokeCartoonCreations
#HandDrawnCartoonPortraits
#TailoredPortrait
#AuthenticArtistry
#CustomizeYourStory
#MeaningfulArtMoments
#UniqueDrawnExpressions
#CapturingLifeInArt