Ian David Marsden - Internationally Experienced Illustrator, Cartoonist, and Animator


Bio Ian Marsden Français | Bio Ian Marsden Deutsch

Ian David Marsden
Phone / Facetime and Whatsapp:
 +33 (0)6 42 49 82 11
ian@marsdenillustration.com
Welcome, I'm Ian David Marsden, an independent illustrator, designer, cartoonist, and animator. I'm also a producer of whiteboard and explainer videos.
Drawing has been my passion since I was a young child growing up in Greenwich Village, New York. At a very early age I used to give drawings to friends, acquaintances, neighbors and people in the local shops. The butcher on McDougal street was particularly impressed with my childhood cartoons and to my joy would give me pencils, which encouraged me to keep drawing.
When I was seven my family moved to Switzerland, and I continued to pursue my passion for drawing. My parents were very supportive and provided me with ample materials like paper, crayons, pens, and also inspirational sources in comic books, such as Floyd Gottfredson's Mickey Mouse and Donald Duck collections. I invested my pocket money in pens, ink, and paper, and more comic books and discovered MAD paperbacks. I proceeded to write, illustrate and publish several school newspapers.
At the age of 14, I started submitting my cartoons to newspapers and magazines in Switzerland, but received numerous rejection slips. However, I persevered and made a sale of several drawings at the age of 16, becoming the youngest cartoonist in the over 100-year history of the renowned Swiss Satire magazine, "Nebelspalter". By the time I was 18, I had established myself as an illustrator and cartoonist in a little studio in the old town of Zürich (the Niederdorf), with a regular strip in Tagblatt der Stadt Zürich and short sequence on Swiss television's PlaySchool written and illustrated by me, as well as work for advertising agencies, such as an advertising campaign for VISA.
in 1999 while living in Santa Monica, Ca and studying Traditional and Computer Animation at AET, The Academy of Entertainment Technology, Santa Monica College I fulfilled my wildest childhood dreams. I sold cartoons to MAD Magazine and The New Yorker! I then also became also the first artist to create "Google Doodles" for Google.
Today, I am the father of 3 wonderful young women and live in a charming village surrounded by vineyards in the Pic St Loup region of the Languedoc in the south of France. My studio is in my house and thanks to the marvel of the internet I work with clients all over the map.
I created the official mascot for the 2003 FIS Ski World Championship in St. Moritz and designed objects for renowned German glass manufacturer RITZENHOFF. I have also illustrated numerous advertising campaigns, magazine and newspaper illustrations, and over 120 illustrations for Daimler Mercedes-Benz's "Knigge" employee handbook, translated into various languages.
In 2020, I wrote and illustrated my first graphic novel, "Marvin: Based on the Way I Was by Marvin Hamlisch," published by Schiffer Publishing and I'm currently working on several other graphic novels and children's books featuring my own characters.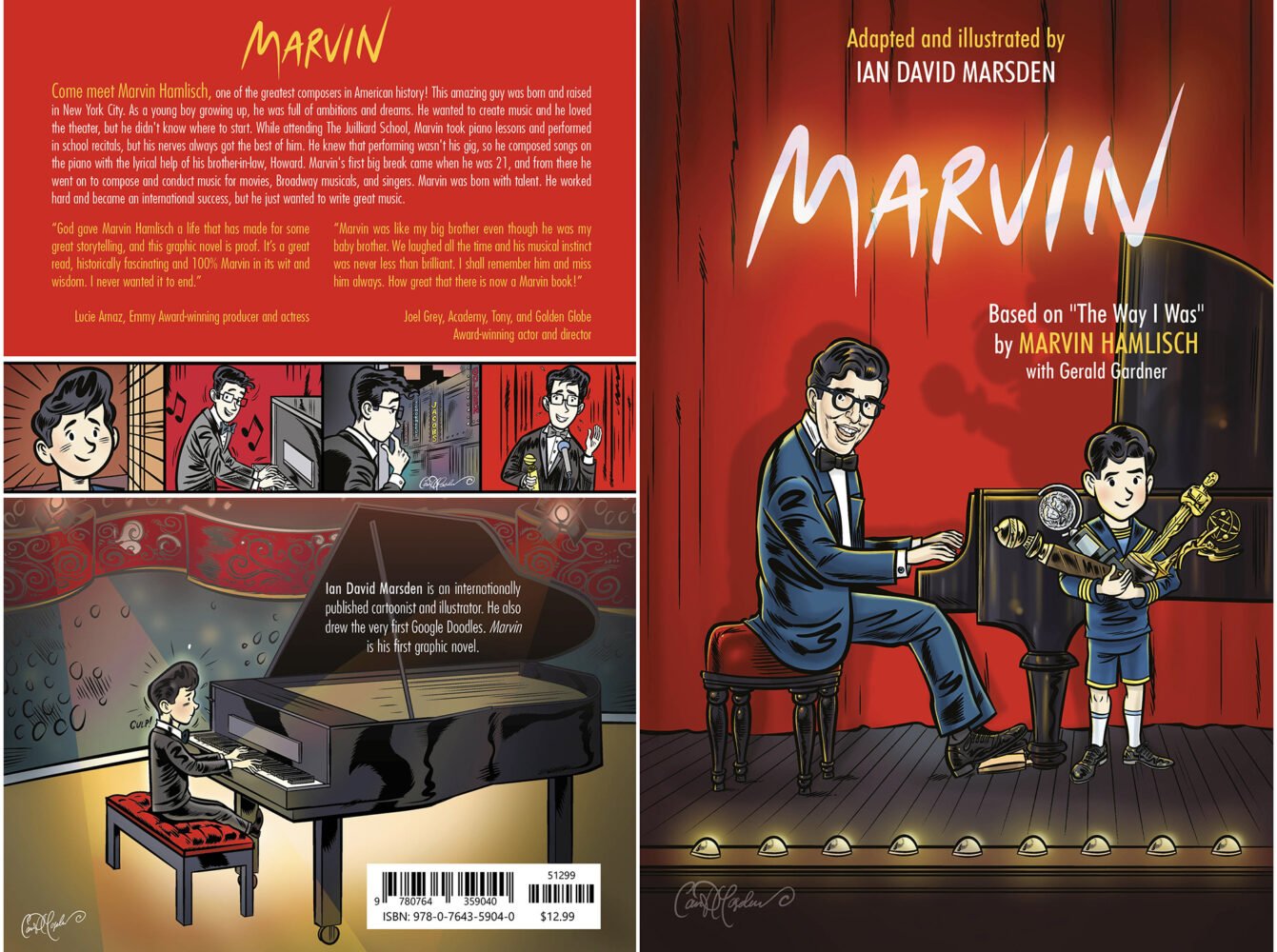 I have an ability to quickly understand my clients' needs and propose a first draft that we can build upon. Please feel free to explore the various categories of my portfolio for more information on my work.
More about me:
I have the skills to understand the client's needs quickly and to propose a first draft on which one can build on.
A few brief bullet points:
I've been working with computers and graphics- and illustration software practically from their inception. As a traditionally trained artist, I pride myself in staying up-to-date with the latest trends and release versions and their new features. My main digital tools are the Adobe Creative Cloud (Photoshop, Illustrator, Adobe XD, Adobe InDesign, Adobe Animate, Adobe Character Animator, Premiere and AfterEffects, and proficient in others as well) as well as Celsys, Inc Clip Studio Paint EX and Procreate on my iPad Pro.
I work as a consulting illustrator, cartoonist, designer, and animator from my fully equipped studio in southern France, with clients in France, Switzerland, Germany, the UK, and the United States.
I am known for my unique style(s) and abilities as an artist, with over 25 years of international experience. I have created art and designs for various top-tier companies, clients, and individuals. My illustrations are noticeable for their recognisable style, vivid colours and intricate details, which bring life to any project.
My versatility as an artist allows me to work across mediums, creating illustrations and cartoons for magazines, newspapers, children's books, advertising campaigns, and even animation. I use various tools such as digital painting, vector graphics, and also traditional media to bring my artwork to life.
One of my strengths is my ability to pay close attention to detail and accuracy, making me an excellent choice for businesses and publishers seeking precise and intricate illustrations for their projects.
My creativity extends beyond illustration, as I also use my skills in animation and motion graphics, creating time-lapse videos of evolving drawings in a very artistic and recognisable style. I also produce whiteboard and explainer videos for products and internal business training and presentations or external advertising, public relations or social media campaigns.
I am an experienced character- and mascot designer for corporations and events. With my excellent communication skills, I can take a client's brief and turn it into the visual they had in mind, even if a few revision-phases and modifications need to be made along the way to the Eureka moment.
I am passionate about telling stories through art and strive to create works that connect with the viewer, whether it be on a humorous, emotional, or intellectual level, or all of the above. If you're looking for a skilled and reliable illustrator for your next project, please keep me in consideration.
Milestones:
(Marvin! : Paperback‎ 64 pages / ISBN-10 ‏ : ‎ 0764359045 / ISBN-13 ‏ : ‎ 978-0764359040)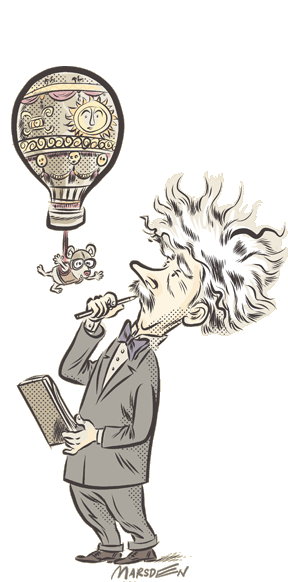 Education: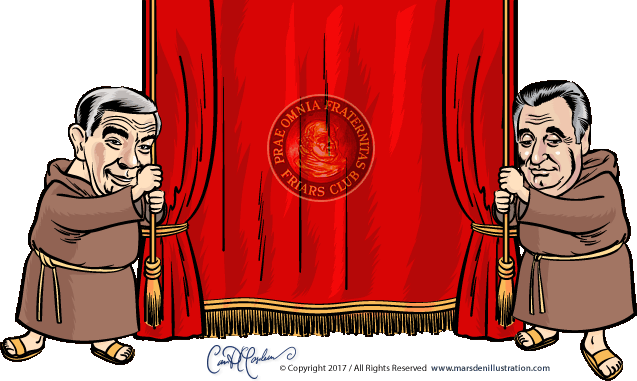 Affiliations (active and previous)∴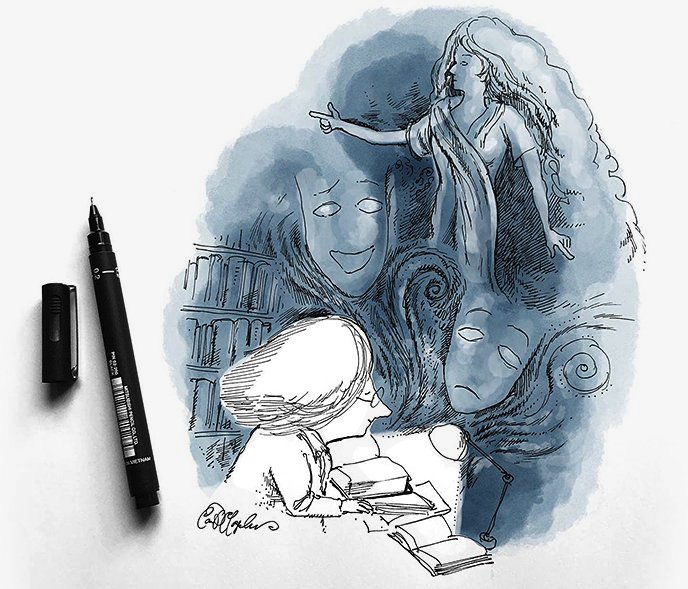 Languages: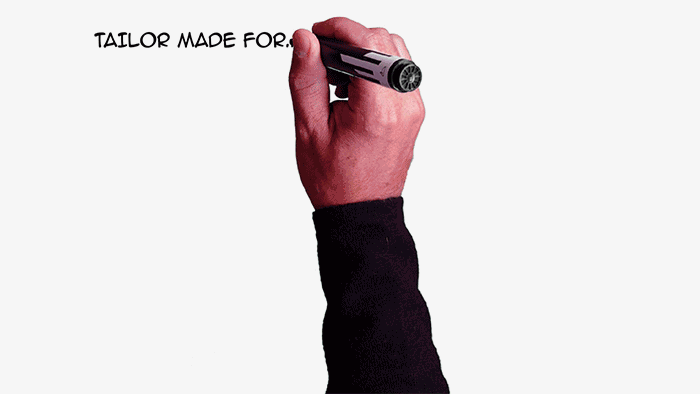 Partial Client List:
AN2V, All Stars Project, Auto Bild, Autour du Pic, Blick Online, Blocklearning.ch, BOLD Werbung GmbH, Breaksru GmbH, Bref, Carlos Dias, Chemmedia, Club de la Presse Occitanie, Coca Cola, Coley & Associates, Comité des Fêtes Vacquières, Curtius Lütten Werbeagentur GmBH, Deutsche Telecom, Dfreeeze App, die Kleinert Bildarchiv, Diesel Jeans UK, Digades, Domaine Les Tuileries, Dräger Global, Drägerwerk AG, Droemer Knaur Verlag, Ecoforest, Evonik Industries, Executive Learning Systems, Federal Acquisitions Institute, Fernsehen DRS, Fox Television, Fraunhofer, Friars Club New York, GMX Glückwunschkarten, Google, Hairloss.com, HauntedHollywood, Hawlik Naturpilze, Henkel, Hermes Pakete, Infospace.com, Inspired Arts & Media, Jay Abraham Strategy Institute, John Morrison / Johnny Mundo, Johner Institut, Justhappiness Montpellier, KHW, La Gravette de Corconne, La Toya Jackson, LandLiebe Schweiz, LAP Vorbereitung, Le Mas du Sire, Les Héritieres de Bacchus, Lindt Chocolate, Mac Directory, MAD Magazine, MADant LtD, MAN, Mairie de Vacquières, Marktrezept.de, Mas de Figuier, Max Curious, New York, METRO, Mövenpick, Mycotrition GmbH, Nebelspalter, Neue Zürcher Zeitung, Novartis, O Mas Troquet Restaurant, Parc Le Duc, PartyPOW!, Plushland, Publicis, PwC, Ransom Publishing, Richmond, Ringier Verlag, RITZENHOFF, Rock Brasiliano, Roland Berger, Samsung, Sanafort AG, Santillana, Schiffer Publishing, Seele, Sens Digital, Showtime Television, Sieber & Wolf, Ski WM 2003, Stadtwerke Wedel, Strobe Solutions, Sustain D, Take the 55, Telekom, The New Yorker, TIR, Top Source Wines, Universal Music Group, Universität Bern, Universität Zürich, Volkswagen Sedric, VISA, Wacom, Web.de, Yantramatte, YJOO, Zum Goldenen Hirschen, Zürich Gym
Testimonials from some of Ian's clients:
Some older recommendations from LinkedIn:
Contact Ian

Mobile +33 (0)6 42 49 82 11
ian@marsdenillustration.com
On-Line Portfolio:
marsdenillustration.com
34270, Vacquières, France