Artwork from various projects and clients. © 2019 All Rights Reserved.
Displayed for self-promotional purposes under my terms and conditions.
During the past months there has been a lot going on on my drawing boards and I participated in various fun and inspiring projects. Here is a collection with some brief descriptions.
Editorial:
In the current issue of Schweizer LandLiebe I contributed the illustration for an article about the wonders of the "Pinot Noir" grape. Wine lovers and experts Geny Hess and Elsbeth Hobmeier expand on their thoughts about this "diva".
I was very pleased to be invited to draw regularily for future editions of Schweizer LandLiebe also.
T-Shirt Design for the US Wrestler John Hennigan
(AKA John Morrison / Johnny Impact / Johnny Nitro / Johnny Mundo)

Johnny contacted me a few weeks ago and asked me if I wanted to design another cool T-shirt for him. My response was a very quick and short "H**l Yeah!". He gave me a rough outline of what he was looking for. As always one of his requirements was that it had to reach an 11 or more on the "Badass Scale". I accepted the challenge and after a few variations we managed to get it just right.
Logos / CI / Icons / WordPress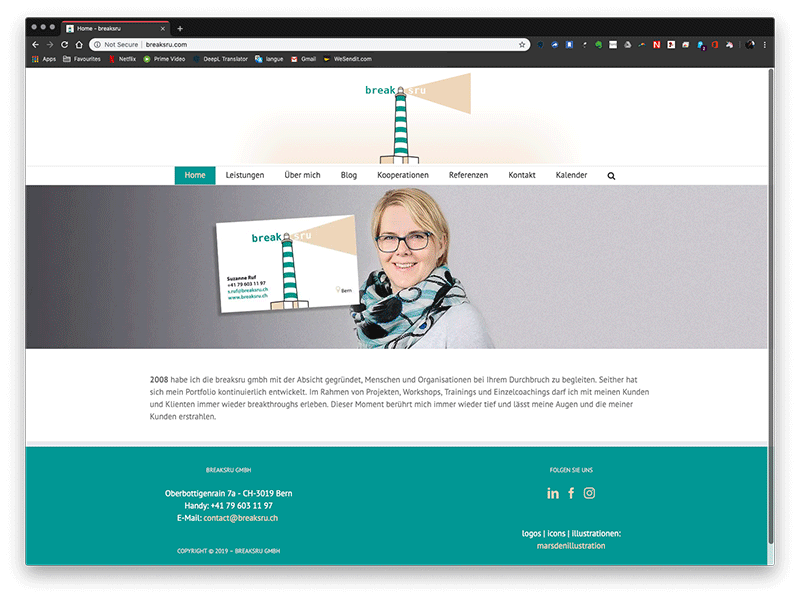 Another wonderful challenge was the complete redesign of the logo, corporate identity and appearance of Breaksru Gmbh for owner Suzanne Ruf. This included the creation of a matching WordPress homepage.
The appearance and the overall feeling needed to represent a new beginning. Setting sail to new horizons. The lighthouse in the new company logo sends a strong and steady beam of light into the future and illuminates the path ahead. Illustrations and icons were designed to go hand in hand with this symbolism.
Attention to even the smallest details, is a very important aspect of how I approach my work. (Icon design as vector graphic in Adobe Illustrator CC 2019)
Graphic Novel:
For over a year I have been working on my first graphic novel "Marvin", a pictorial adaptation of the autobiography of the composer and musician Marvin Hamlisch. The book is currently getting the finishing touches and has an official release date with Schiffer Publishing of Spring 2020.
Many thanks to my literary agent Anna Olswanger for all her incredible work and her dedication which ensured the realization of this book.
Motion Graphics / Whiteboard Videos:
I had the pleasure of designing characters, backgrounds, assets and illustrations for a variety of "Knowledge Nugget" micro-learning videos for the United States Federal Acquisition Institute (FAI) in collaboration with the production company.
These videos are online and publicly viewable here.
https://www.fai.gov/media-library/collection/knowledge-nugget
Below a few more recent projects in a multitude of styles and media created for various clients.
Wine Surfers:
For a personal invitation. The people surfing had to be recognizable and were drawn based on photographic reference material. The waves were roaring while I drew this and by the end I felt quite thirsty. 😃
Poster / Advertising:
Event Poster: VIN-TAGE 2019
Saint-Mathieu-de-Tréviers, 34270
Pic St. Loup (34) , France
Site Plan / Pictographs:
Residencial community with restaurant and pool facilities
South of France
Client: Parc le Duc
Media: Vector Design in Adobe Illustrator CC 2019
2019
Logo Design:
Clients:
Mairie de Vacquières / Mayor's Office
Restaurant Ô Mas'Troquet
Many thanks for your interest in my artwork. I wish you a lovely spring and would be very happy to hear from you. Now that my graphic novel is completed I am back at normal capacity again and available for new projects.
I invite you to drop by and say hello on my Instagram. The newsletter is only sent 4 times per year. I update my Instagram on a far more regular basis.

https://www.instagram.com/marsdenillustration/

Thank you for your interest in my work. I would love to hear from you,
Ian
Contact:
ian@marsdenillustration.com
iPhone: +33 (0)6 42 49 82 11
Portfolio: www.marsdenillustration.com
Copyright © 2019 Marsden Illustration, All rights reserved.


Artwork from various projects and clients. All Rights Reserved.
Displayed for self-promotional purposes under my terms and conditions.