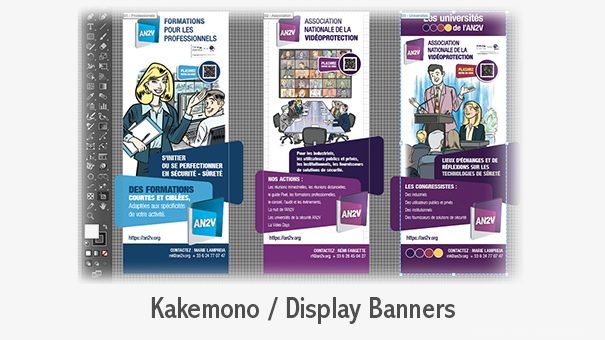 I am frequently consulted by my clients to assist with marketing and advertising projects, with concepts and ideas, layouts and graphic design suggestions as well as of course drawings and illustration elements.
AN2V, the Association Nationale de la Vidéoprotection approached me for a very interesting project. Founded in 2004 by Dominique LEGRAND, this remarkable association was established to address the growing need for the exchange of experiences in the field of security technology. At the time, video surveillance, which we now call videoprotection, lacked structure, and many users were grappling with the challenges of deployment.
What sets AN2V apart is its unique combination of "demand" from both public and private users, along with companies offering products and services in the realm of security technologies. AN2V is truly one of a kind, and I was privileged to collaborate with them.
AN2V presented me with an exciting challenge – to create three distinctive, large-scale Kakémono display banners, each measuring 2.10 meters by 0.85 meters. These banners were designed to represent three key facets of AN2V's activities: training, the association itself, and the universities they organize.
Read more →