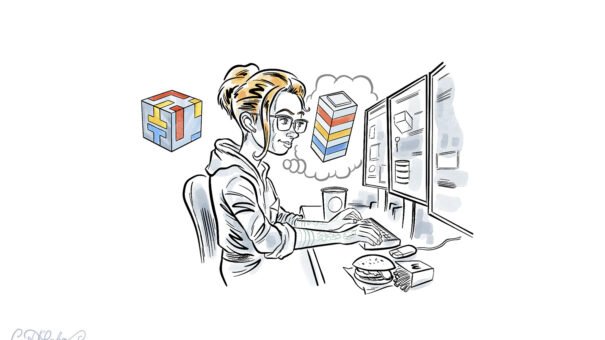 One of the services I provide as an illustrator and cartoonist, is live-drawing and graphic recording for professional events. My skills in quick drawing and ability to capture key points of spoken communication can help bring life to your event and leave a lasting impact on your attendees. Whether it's a private view, seminar, meeting, or sales presentation, I can provide a custom solution for your needs.
My live-drawing and graphic recording services are available in person, I can draw either traditionally with markers on paper or on a whiteboard. Alternatively, we can connect my iPad Pro to a projector, allowing the evolving drawings to appear on a large screen in real time. The final artwork can be printed out and presented to the visitors or guests attending the event. It can also be added to materials and websites later, providing a valuable resource for participants to reference and share with others.
Or I can connect to your meeting through remote virtual scribing. With remote scribing, I can connect to your virtual event and create real-time visual notes while your meeting unfolds. This way, you can display the artwork as it unfolds on the screen and also share the final illustrations with your team or audience immediately after the event. (All usage rights are transferred to your for usage after the event.) I have a robust and dependable fiber internet connection that ensures flawless live streaming capabilities. This means that if you opt for remote scribing or graphic recording services, you can rest assured that there won't be any technical glitches or interruptions. With my top-notch internet infrastructure, you can enjoy a seamless and immersive experience, no matter where you are in the world.
In addition to my live-drawing and graphic recording skills, I am perfectly bilingual in English, German, and Swiss German. This means that I can seamlessly follow or switch between languages during the event and ensure that all participants can follow the discussion without any language barriers. Being a native speaker of all three languages, I have a deep understanding of their nuances and can accurately convey even the most complex ideas.
Graphic recording and visual note-taking are powerful ways to make events more engaging, memorable, and effective. It allows attendees to follow the presentation more easily, and to retain key information long after the event is over. With my ability to draw very quickly and grasp key points, I can transform them into amusing vignette drawings that make your presentation more exciting.
Ideally, before the event, we will have a discussion about the presentation and the key points you want me to capture through live-drawing or graphic recording. From there, I will pre-prepare the illustrations based on your inputs, which will be pre-approved by you. This approach helps ensure that we get everything right beforehand and leaves no surprises on the day of the event. The pre-production work is included in my flat rate. However, if there are some changes that need to be made on the spot, I can improvise and adjust my drawings accordingly, without any issues.
Alternately, I can also improvise completely on the spot without any preparation. I have honed my skills to quickly grasp key ideas and transform them into witty and amusing vignettes that perfectly capture the essence of the discussion. This ability to improvise in real-time is particularly useful in fast-paced events or discussions where spontaneity is key.
I provide a flat rate estimate for my live-drawing and graphic recording services, which includes the transfer of rights for the created images. This ensures that you have a clear idea of the costs upfront and there are no surprises or unexpected expenses.
For in-person appearances at events, my day rate is 1500 Euros, plus travel expenses (transport, accommodation, food, activities) plus the flat rate for the creation and usage rights of the artwork.
If you are interested in learning more about my live-drawing and graphic recording services, please don't hesitate to contact me for a free, flat-rate estimate. I have decades of experience assisting clients and contributing creatively and artistically to projects internationally, and I look forward to working with you.
Please do not hesitate to contact me directly to discuss your project and explore how I can contribute my skills to make it a success. I would be thrilled to hear from you and answer any questions you may have. Let's work together to bring your vision to life!
Ian Marsden – ian@marsdenillustration.com – iphone/whatsapp: +33 (0)6 42 49 82 11
Read more →